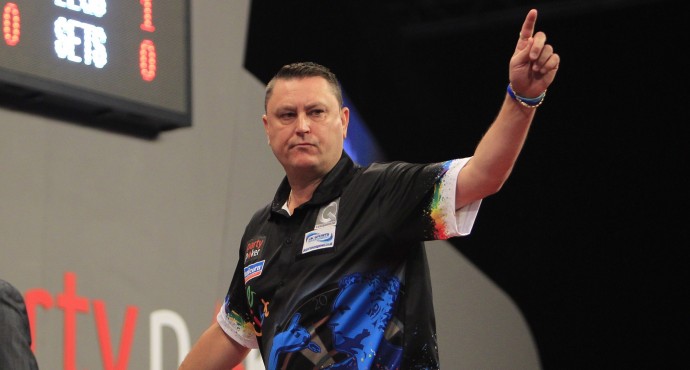 "I'll still be fighting when many of darts' brightest lights have faded" is the defiant message from one of the PDC's most experienced and determined characters.
A professional for more than two decades, there isn't a great deal in darts that Kevin Painter hasn't seen. An appearance in a World Championship final that went down in tournament history, a major victory and Premier League stint – The Artist has made sure he has been at the sport's top table every step of the Professional Darts Corporation's incredible evolution.
When the familiar strains of Kaiser Chiefs' I Predict A Riot drift over the partisan Alexandra Palace crowd, it will signal the start of a staggering 14th consecutive appearance at the biggest oche of them all for Painter.
Although this year has brought mixed results for the 47-year-old who first threw a competitive dart as a teenager, Painter still boasts UK Open and World Grand Prix quarter-finals as well as a European Tour semi-final for 2014 as he sits a solid 20th in the Order of Merit.
With the likes of Michael van Gerwen, Adrian Lewis and 16-time World Champion Phil Taylor – the victor of the aforementioned unforgettable 2004 final – fighting for top billing, Painter has continued to be another instantly recognised, respected and formidable character on the circuit.
"I say this now and again to people who tell me 'you haven't done much, you haven't a lot' – I may have won a televised major, but what a lot of people don't realise is that I've been doing this 20 years," said Painter.
"And I've spent most of that time in and around the world's top 16, or very close to it. I've seen players come and go. I've seen players go past me in the rankings to numbers seven or eight, before a couple of years' later I've seen them bypass me and disappear into nothing.
"But I'm still about and that's what keeps me going and what people seem to forget. I'm not going to name names, but there are a couple of people in the top ten that I don't think in a couple of years will be anywhere near there.
"They're just having purple patches and some of these players that have been around years haven't just turned up and played well, they've been consistently doing that for years. Some players are just having a purple patch and a bit of glory at the moment.
"I'll still be there when they've gone because although I may not be a Michael van Gerwen or Adrian Lewis with incredible leg-on-leg potential, I can still play the game and be there or thereabouts – I'm pretty consistent in that way. I'm hopeful of sticking around for a good few years more."
Painter is in no doubt as to what is keeping his darting fire burning, adding: "Personally, it is my competitive instinct and my determination to do well.
"I still look forward going to the events, but maybe not so much actually being there. It's a strange one, you do get fed up of seeing the same old faces week after week when these tournaments coming at you thick and fast.
"But it's the same as any job, if you work in an office you see the same people every day. I still believe I can win things, I still believe my form can be better and I'm still working hard to improve.
"I don't think you ever stop learning and improving in this game if you have that determination. After 20-odd years it would be easy to say 'I've had enough, I can't be bothered, it's all over' but I'm nowhere near that now and would like to think I've still got plenty left.
"I don't like losing and I think that helps, with the grit and determination keeping me going."
Whilst he may be dismissive of some of the top ten players' ability to keep performing, Painter is in no doubt that the ever-growing crop of emerging talent can produce genuine stars of the future.
The ardent Ipswich Town supporter has experienced at first hand the quality of 21-year-old Dutchman Benito van de Pas.
Painter has met the hotly-tipped youngster just twice, but has ended both Players Championship clashes on the wrong end of a 6-3 score line.
Unicorn Darts' user Painter has also echoed the many backing Michael Smith to be a future World Champion, the Gary Anderson-backed protege having already beaten Taylor at Ally Pally and reaching September's European Grand Prix final.
Painter said: "There seems to be someone new come along every month with the youngsters. Recently we've had Benito van de Pas and from what I've seen of him, he's a great player.
"I've been on the receiving end of a couple of thrashings from him when I've been playing really well. If he can carry on the way he is going he could be the next one people are talking about.
"We've already got Michael Smith, who in my opinion is going to be a multi-World Champion in the years to come. When the likes of us old'uns have been and gone, he will still only be in his late 20s or early 30s, so he's got a lot of glory ahead of him.
"There are a few others dotted around. I wouldn't say there are millions, but there are a good few. There are a couple, obviously, who you also think should've done well and haven't.
"The more and more publicity that darts gets with the more and more money that comes into it, the more youngsters are going to want to play."
With the PDC also recently taking darts to Australasia and Southeast Asia with the World Series – and a string of global events planned for 2015 – Painter said that now was the time for those breaking into the game to seize their chance.
"When I first joined the PDC I knew that it was the move and the way to go forward," he said. "I was playing BDO darts, which was going nowhere fast.
"I had an idea that the PDC would be the place to play, but no idea it would be as huge as it is now. Since Barry Hearn and Sky Sports have come on board the rest has become history.
"It's great for the youngsters – they've got something to look forward to and can be millionaires. When I was their age there wasn't any money in the game, I was just doing it for the enjoyment.
"Now you can make a career and a living out of it, so these young kids have got a lot to look forward to."
Picture by Lawrence Lustig/PDC