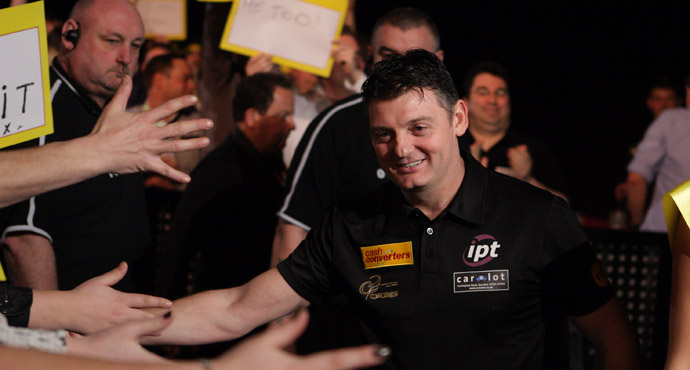 Andrew Gilding has been told by Justin Pipe to stick to his game and let his form fire him up the world rankings.
The UK Sports Management duo head to Wigan this weekend for the latest Players Championship rounds with a place at this summer's BetVictor World Matchplay firmly in rising star Gilding's sights.
Goldfinger's stunning start to 2014 has seen him climb a staggering 30 places to 48 in the PDC's global Order of Merit.
However, Pipe has warned his Quantax-backed colleague against changing too much if he wishes to maintain his momentum.
"You've got to take it as it comes, you're either going to hit the top 32, the top 16 or the top ten, or you're not," said Cosmo Darts player Pipe, who enjoyed a similar climb on his way to Pro Tour success in 2012.
"It's no good thinking about it and changing things to become what you think will be a better dart player. You can obviously tinker with your set up and try different things there, but Andrew does everything right.
"He gets to the venue early and he gets on that practice board. He does everything right – he doesn't need to change anything.
"You don't need to change the things to progress up the rankings, because that will come if you are playing well. If you think about you are going to lose.
"I never look at the rankings and if I'm number nine in the world or 19, I just want to go out and win, playing whoever I've got to play. You can't change things to climb the rankings, you've just got to go out and play your game."
Admitting that joining Pipe, Ian White and Kevin Painter at UKSM served a huge confidence boost, Gilding said: "All my goals are coming in nicely.
"My goal with the European Tour was to get as many games on the stage as possible and I got three at the German Darts Masters, so I was happy with that.
"I'm very close to getting to the World Matchplay as well now. Another good thing is that on the one-year rolling Order of Merit between now and the Matchplay qualifying cut-off date I've only got £250 to come off my money for the year.
"Maybe my next goal should now be to push for the top 32 for the year so I can qualify seeded for the Players Championship Finals.
"It gave me confidence to know that people think I can be with this group of people. I'm pretty much a newcomer to the PDC and to be included in that company with the likes of those people is just a great boost."
Want to see Justin Pipe at your local club or event? The Force is available to book for exhibitions and public appearances! Contact Tracy O'Toole at UK Sports Management today on 0845 519 5550 or email [email protected] for more information on rates and dates.
Picture by Lawrence Lustig/PDC