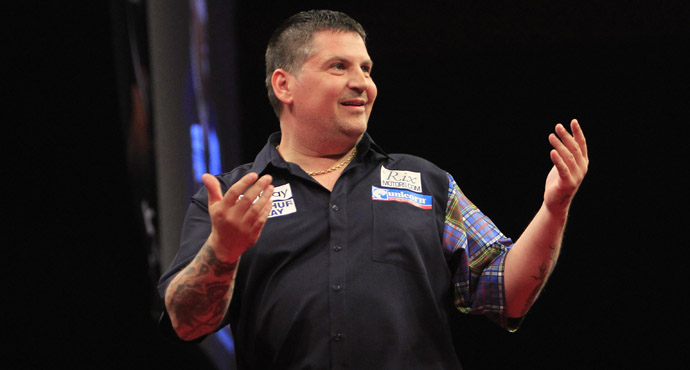 Gary Anderson's Betway Premier League Darts play-off bid could hinge on tonight's meeting with reigning champion and current table-topper Michael van Gerwen.
The Somerset-based Scot who lifted the title in 2011 joined 16-time World Champion Phil Taylor on 14 points with a pair of draws in Manchester seven days ago.
Ahead of this evening's action in Birmingham, Anderson said: "I know that if I win my games the rest should take care of itself. I'm in touch but I'm giving points away and making a mess of games.
"Looking back I've thrown a few games away and some players have had the game of their lives against me, so I can't complain, I've just got to buckle down and get on with it."
World number one and 2014 Alexandra Palace victor van Gerwen admitted he could feel his rivals breathing down his neck after staying a point ahead of Dutch compatriot Raymond van Barneveld by beating Dave Chisnall.
"I'm on top of the table but I can feel the other players breathing down my neck," said van Gerwen. "I want to win all my remaining games and play well all the time.
"Last week, when I needed to I hit the doubles at the right time. I'm probably at 90-95 per cent of my best but I'm still winning, and that's a nice thing."
Chisnall doubles up with games against Taylor – who also faces van Barneveld – and Robert Thornton and is under no illusions as to the importance of his schedule.
"I've got four games left and that's eight points I can win, so that can still get me there," said the St Helens thrower. "It depends on the other games but I'm looking forward to this week.
"I'm playing Robert Thornton and Phil Taylor, and hopefully I can do the double there. Phil's still the best player in the world – when he's 'on' he's something different – so it will be good to play him. I think I'm playing well, so I've just got to tidy up a little bit on my doubles."
UK Open winner Adrian Lewis must avoid defeat in his encounter with the colourful Peter Wright if he is to stand a chance of reaching the final four.
"Adrian's a great player and he's fighting for his life, but I've got a good record against him on TV and I want to keep that," said Wright.
"All I'm thinking about going into the game is winning, but I want to make sure my average is over 100 to make sure Adrian's on top of his game."
See Betway Premier League stars Dave Chisnall, Adrian Lewis and Gary Anderson at two of the biggest darts events of the year!
Chisnall and Lewis top the Lock, Stock and Three Smoking Arrows bill at Coventry's Ricoh Arena on Saturday 27 September that also boasts darts legends Eric Bristow, Keith Deller and Bobby George.
Hosted by leading darts firm UK Sports Management, current PDC professionals Justin Pipe, Kevin Painter, Colin Lloyd and Steve Beaton will also appear alongside Sky Sports' Wayne Mardle – all introduced by MC Russ Bray.
Apocalypse 2014 sees the return of one of last year's most popular exhibitions. Anderson will be joined by UKSM trio Pipe, Painter and White, along with Deller, Bristow, Mardle, Beaton and John Lowe. Bray will again host the event on Saturday 6 December at  the Stevenage Arts and Leisure Centre.
Tickets for both titantic tungsten tussles are selling fast and are available now from our online shop.