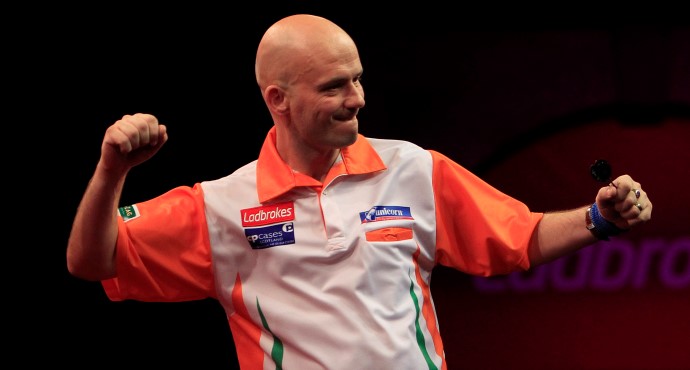 PDC ace Jamie Caven has become the latest darts fans' favourite to team up with UK Sports Management and has immediately targeted a place amongst the world's top 16.
Jabba has joined major semi-finalist Justin Pipe, former Premier League star Kevin Painter, Ian White and Andrew Gilding at UKSM, one of the country's leading companies that specialises in the management and promotion of professional darts players.
Caven – a practice partner of Painter and fellow Unicorn user – is currently ranked 23rd globally and said entering a new chapter of his career with UKSM can help him climb to the next level.
"I've been a professional for seven years now so I'm looking to make that next step," said Caven, who is backed by CP Cases Scotland and Mr Tax.
"The top 16 is my next big target and I think that the right people behind me – that I think I have now got – will be a massive help."
Having seen at close quarters how UKSM had boosted Painter's career, Caven added that the choice to join was an easy one.
He said: "Kevin seemed to be more relaxed in himself. I practice with him regularly and I saw a change and improvement in his game.
"It took him almost 20 years to win a major when he lifted the Players Championship Finals title and he has that same attitude now to when he was on the verge of victory.
"A lot of that is to do with the structure behind the scenes. When a lot of the financial pressure is taken off it helps in a big way.
"When UKSM showed interest and I met with them last week it was almost immediate that I was interested in signing."
UKSM chief executive Paul Weller said: "We are delighted to be working with Jamie and he is an important addition to the team.
"UKSM is building an impressive team of world class players as we look to dominate the global darts stage.
"All five of our players are heading in the right direction and proving every week that they have the calibre, experience and ability to excel in the biggest tournaments. We cannot wait to help their development further.
Paul Weller added: "At UK Sports Management we have the professional experience and knowledge to structure credible and sustainable management support programmes, sponsorship opportunities and many other revenue generating opportunities to allow our sportsmen to benefit financially while allowing them to fully focus on their career development."
To take advantage of any sponsorship opportunity with Jamie please contact UKSM at:
UK Sports Management Ltd
Red Sky House
Fairclough Hall
Halls Green
Weston
Herts
SG4 7DP
Picture by Lawrence Lustig/PDC