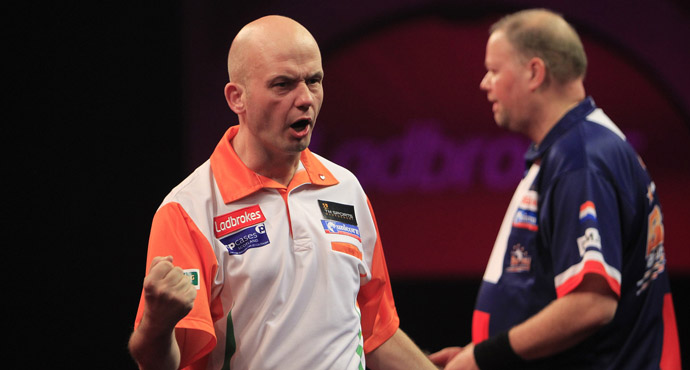 Jamie Caven became the latest PDC star to join forces with UK Sports Management when he teamed up with the leading darts firm yesterday.
The CP Cases Scotland and Mr Tax-backed player is hungry to improve on his current world ranking and wants to climb at least seven places from 23rd to the Order of Merit's top 16.
Although already an established player on the professional circuit and a fans' favourite, we sat down with Jabba to find exactly who was the man behind the oche…
Name: Jamie Caven.
Age: 38.
Hometown: Derby.
World ranking: 23.
Career best achievement: I would say all seven of my Pro Tour wins, but the biggest were the back-to-back victories in a weekend at Wigan last year. Only ten players in PDC history have achieved that.
Walk-on music: Tom Hark by The Piranhas.
Darts used: 23g Unicorn Jamie Caven.
Favourite double: Double top.
Aim for 2014: I want to break into the world's top 16 by the end of the year.
If I wasn't a professional darts player, I would be: My previous job before I turned professional was an office administrator. I didn't really have a trade, like some people are builders or carpenters. If I wasn't in darts I would be working somewhere along the same lines in an office-type job.
My inspiration to play darts: Professionally, it was Eric Bristow. Everybody loves Eric and he was my idol when I was growing up. My Dad played as well and I loved watching and playing with him.
Favourite sport and hobby: Football, I'm a Liverpool fan. Hopefully we can end 24 years of hurt and win the Premier League this season.
Favourite food: Italian.
Favourite music: I like loads of different music, but I would have to say my favourite band are Kasabian as they're from Leicester, where I'm originally from.
Best friend on tour: I would have to say Colin Osborne as he doesn't live too far away.
Match day routine: I run an academy so I go through the same routine the kids use. It's good for your all-round game and is about scoring as many points as you can, so you can almost grade yourself. It doesn't matter if you're amateur or professional, it's useful.
Three things I would take to Room 101: Manchester United, tomatoes and airport queues.
If you would like to take advantage of any sponsorship opportunity with Jamie then please contact UKSM at –
UK Sports Management Ltd
Red Sky House
Fairclough Hall
Halls Green
Weston
Hertfordshire
SG4 7DP
Picture by Lawrence Lustig/PDC